East Ninja House is not a guesthouse.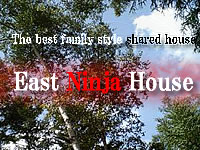 it's a family style shared
accommodation
music,art,nature lovers are welcome.
We East Ninja House family is renovating a traditional Japanese inn(Ryokan)
to mike it better,funky and family like atmosphere like homestay family.
No key money,No agency fee,only 15,000yen security deposit deposit.
minimus stay is from one month.
no curfew and moer than welcome to bring your friends.
you can enjoy BBQ,Hammock and watching movies under stars.
We enjoying outdoor sports as well as creating art work.
join us to have the best shared life in Japan.